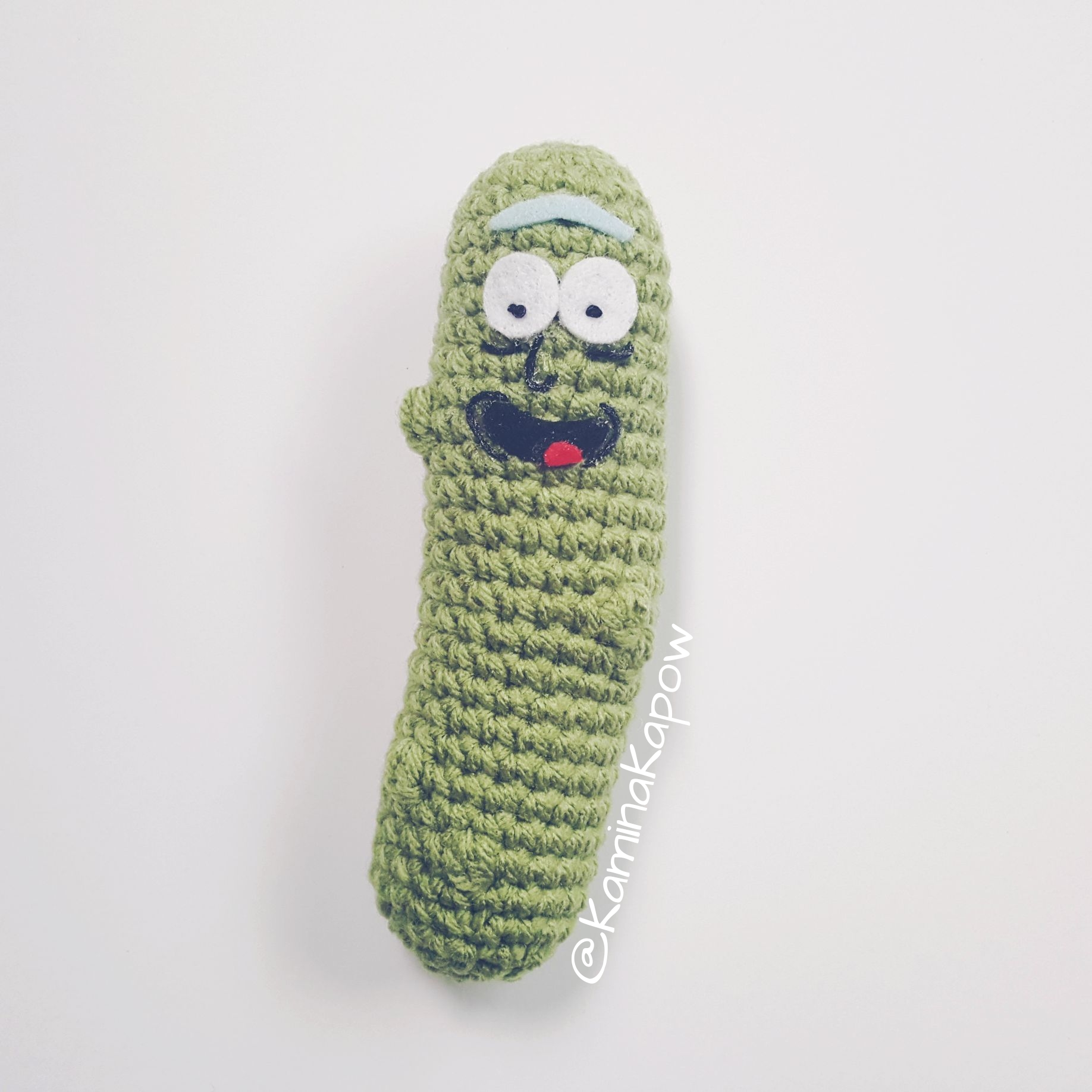 This is a free pickle pattern, you'll have to improvise the face if you want to make Pickle Rick. He has many different expressions to pick from, so pickle your favorite Rick and get to it.
U.S. crochet terms:
Magic ring (MR)
Single Crochet (sc)
Double Crochet (dc)
Increase (inc)
Invisible decrease (InvDec)
Bobble stitches are either made with 2dc or 3dc and noted in ( ) after each bobble.
Materials used for pickle:
Red Heart in color Lettuce
3.5mm hook
Tapestry needle
Scissors
Fiberfill
Materials used for Rick:
Felt (light blue, white, black, red)
Glue
Black Embroidery thread
Embroidery needle
Scissors
Pickle Pattern
You can start stuffing at any point and stuff as you go, or you can wait until the end. Your choice.
Row 1– MR, 6sc (6)
Row 2– Inc around (12)
Row 3– (2 sc, inc) x4 (16)
Row 4– (4 sc, inc) x3, 1 sc (19)
Rows 5– 9sc, inc, 9sc (20)
Rows 6-10– 20sc (20)
Row 11– 1sc, bobble (3dc), 18sc (20)
Rows 12-16– 20sc (20)
Rows 17-18– 10, bobble (2dc), 9 (20)
Rows 19-22– 20sc (20)
Row 23– 5sc, bobble (2dc), 14 (20)
Row 24– 20sc (20)
Row 25– 8sc, bobble (2dc), 11sc (20)
Row 26– 20sc (20)
Row 27– 9sc, InvDec, 9sc (19)
Row 28– 1sc, (4sc, InvDec) x3 (16)
Row 29– (2sc, IncDec) x4 (12)
Stuff the body
Row 30– InvDec around and sew closed